Public Business Directory
Browse Alphabetically ABCDEFGHIJKLMNOPQRSTUVWXYZAll
katharos
Submitted by: Nelson
I make all natural beauty and household products. My products can be purchased inside the Artistic Bean Coffee Shop in Maryville and through my website. Local orders can be delivered at no charge.
-Elena Nelson
Contact: 1738 W. Broadway, Maryville, TN 37801 | Phone: 865-223-1239
Keller Williams
Submitted by: ADMIN
Real estate is my passion and I love helping my clients find the home of their dreams or sell the one they are currently in. A home is the biggest investment most people will ever make. As a real estate professional (and retired attorney), I help my clients through every step of the buying and selling process.
Marleen Naab
Keller Williams Realty
865.696.0182
*Each office is independently owned and operated.*
Contact: 11121 Kingston Pike, Suite C, Knoxville, TN 37934 | Phone: 865.966.5005 | Cell: 865.696.0182 | Fax: 865.966.5002
Keola Christian Fitness and Wellness
Submitted by: ADMIN
Keola® is a Christian mind-body exercise alternative that uniquely incorporates the love story of the Gospel into movement, transforming the time you set aside for exercise into something even more valuable and successful. You can find free workouts, meditations, monthly challenges to bless your spirit, soul, and body, as well as other resources online. My goal is to begin adding much more this 2016-2017 schoolyear, so check back often.
I am the creator and owner of the exercise. Keola Fit is an evangelical/missionary movement within the health and fitness industry, not a business. I specialize in training instructors, speaking on holistic health for and through Jesus, as well as special event exercise classes.
There are independent instructors in the Maryville/Knoxville area that offer live classes and may use their services for profit. Please visit the website for that listing and contact those instructors directly for questions about their businesses and/or uses of Keola®.
Be blessed!
Knox French Coach
Submitted by: Crepieux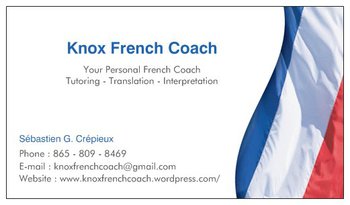 My name is Sebastien and I am from a small town named Loches in Touraine, Loire Valley, France.
I moved from Bordeaux, France to Knoxville,TN in 2008 with my wife who is a Professor at UT.
After giving training in the industry world in France and having an great time tutoring French for three children between the ages of 5 and 14, I decided to create my own tutoring company to give you the opportunity to learn a new language.
Since the creation of Knox French Coach, I have developed my expertise in 5 different domains:
– Private French Lessons
– Business French Lessons
– Group Lessons
– Translation
– Interpreter
Contact: 1330 Grainger avenue, Knoxville, tn 37917 | Phone: 8658098469