Public Business Directory
Browse Alphabetically ABCDEFGHIJKLMNOPQRSTUVWXYZAll
Mac's Lawn Care and Landscaping
Submitted by: ADMIN
We provide lawn care and landscaping services to the Blount, Seymour, and South Knoxville areas. We are licensed and insured to provide worry-free service and have a customer-satisfaction guarantee! Pictures of our work and customer reviews can be found on our Facebook page.
Magical Memories Character Parties
Submitted by: Atchley
Hire Elsa, Anna, Snow White, or a Star Wars Jedi (working on new characters) for your next party or event. I can also do pop in character visits. Now booking for weekends.
Prices vary depending on event and how long you need me. I will also be available for fundraisers. I prefer to stay in the Alcoa/ Maryville area. Please text or email me for more info.
Mary Kay IBC, Kristina Chisholm
Submitted by: ADMIN
"Ours is a business where selling results from a truly personal one-on-one relationship – a friendship."
Mary Kay Ash
Contact: 3938 Leyte Dr, Maryville, Tennessee 37801 | Phone: 865-441-7192 | Cell: 865-441-7192
McClurg & Sons Hauling, Mike McClurg, Owner/Operator
Submitted by: McClurg
Need someone to haul gravel, mulch, stone, etc. Great Rates. Call today for a quote. Thank you and God Bless!
Contact: 6018 Deer Trot Trl, Tallassee, TN 37878-2342 | Cell: 8652572272
Midland Dry Cleaners
Submitted by: Atchley
We are a family owned Dry Cleaners. We have been open for over 20 years. Come by and see our super friendly customer service!
We do Dry Cleaning, shirt service, comforters, curtains, wedding gown cleaning and preservation, and alterations. We also do just general pressing.
Feel free to call us with any questions.
Contact: 205 North Calderwood Street, Alcoa, Tennessee 37701 | Phone: 865-981-9890
Monat Hair Care
Submitted by: Griggs
We have exactly what you need to look your best every day. Is your hair dry and damaged, thinning, frizzy? Do you want your hair to grow or have post pardom hair less? Let me help you find the perfect products to restore your hair to health.
Contact: 3861 Valentine Road, Maryville, TN 37804 | Phone: 8657120009 | Cell: 8657120009
Monkeyboy Kids
Submitted by: Beard
Hi! I have a small line of organic, fair trade infant and toddler onesies and tees. (newborn - 5T); They are original, screenprinted designs on some of the softest, most durable organic cotton you can find! We've got pirate ships, strongmen, little birds, circus characters - all kinds of things to choose from in some of the most vivid, rich colors that came come of organic/skin friendly dyes! Please email to find out more and to see what's available. These shirts make perfect christmas gifts! I also do house parties for groups over 5 with little freebies and perks for the host!
The best way to reach me is email as my phone does not always have reception out where we live! Or, stop me at BHEA on enrichment days!
Monogrammed for Life
Submitted by: Davis
What do you love to celebrate in your life? Let Monogrammed for Life help you celebrate what you love with a custom made, personalized gift. Whether it is your favorite hobby, your child's sports team, your home state, or a special event, Monogrammed for Life can custom design a product for you and those you love.
Check out my Facebook page for products. facebook.com/monogrammedforlife
Contact: 1023 N Old Grey Ridge Rd, Maryville, TN 37801 | Phone: 8652339391 | Cell: 8652339391 | Fax: 8652339391
More Than Memories
Submitted by: ADMIN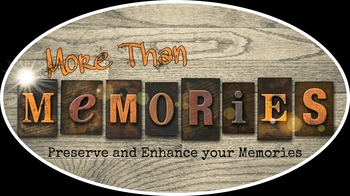 We take your memories and make them more, Preserving and Enhancing your treasured memories and Creating Truly Inspiring Experiences for your whole family.
What greater gift can you give to your family and friends? Check out a quote from a customer.
Turn your ♦Old home movies ♦Slides ♦8mm film ♦VHS (and Mini-VHS) ♦Hi8 videos ♦Print Images ♦Audio Cassettes ♦Records and MUCH more into a format that you and your family can enjoy for years and years to come.
You could create video slide shows of treasured friends and family for a : 1) Christmas Gift, 2) Birthday, 3) Baptismal Celebration, 4) Retirement Service, 5) Memorial Celebration, and any celebration you can imagine.
Wil Davenport, and More Than Memories, offer you a personal/local contact. All of your items will stay local and will be handled with great care. We also offer the ability to truly customize what we create for you. Let your imagination go wild.
So, act now to preserve those memories while you still can. Your old media can and will go bad over time, so ACT NOW!
Contact: 2441 Old Niles Ferry Rd., Maryville, TN 37803 | Cell: 8654143954
My Doodle Place
Submitted by: McKinley
Creativity and play for wellness in mind, body, spirit for all ages. In-person and online options. Please see my website: www.mydoodleplace.com
Email: [email protected]